Description
In addition to the time, Cristalys Date / Ellipse LCD Digital Clocks offer a large number of display options thanks to a wide choice of information and 18 available languages. And what's more, you can customise it by writing your own message.
POE NETWORK              MAINS SUPPLY
Essential day-to-day information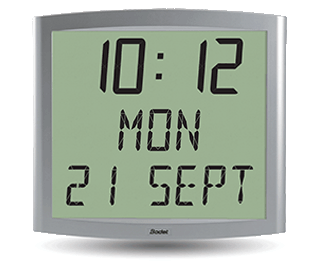 The Cristalys Date is fast becoming a must-have support tool. In addition to the time, you can access awide range of essential day-to-day information at a glance: date, seconds, day of the week, day of the month, custom message, names of cities, places, event countdowns, etc. All this in a fixed or alternating LCD display.
The pure style of the Cristalys Ellipse combines the modernity of sharp angles with curved lines. Its liquid crystal display and the simplicity of its 6cm high digits make it perfectly readable from up to 25m away. This is why it is regularly found in large meeting rooms, company lobbies and open spaces. And for easy installation, various supports are available: wall, ceiling, table or double-sided.