Description
Bodet Profil Range – 930I / 940I / 960I Indoor NTP PoE / Wi-Fi Clocks are designed with accuracy and state of the art technology in mind. Every Bodet clock is designed and manufactured to ISO 9001 & ISO 14001 standards. Profil I and Metal clocks are made for indoor use while E models are suitable for outdoor use.
The most popular of the Profil clocks – This analogue clock is timeless and has multiple synchronisation options for displaying the time.

The Profile range stands the test of time. Its clean, round shape makes it pleasant to look at, while its balanced size makes it easy to read. Its black hands turn against a white background with an elegance of movement. Its polymethacrylate glass face offers a beautiful transparency, as clear as water. The Profil range can be displayed on the wall like a picture, hanging from the ceiling or mast-mounted. And style doesn't have to be unique: express your own through the many customisable features of the Profil range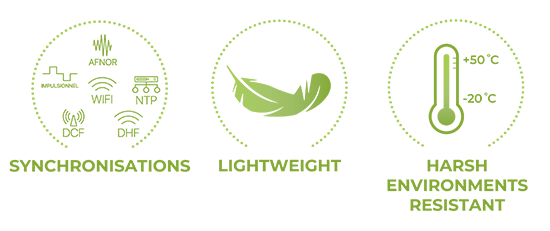 Dial Diameter – 3 sizes available : 278, 377 & 570 mm.
Environment – Indoor and outdoor models.
Dials Models – Most Profil clocks are available with either DIN, notches or figures.
Casing Colours – 4 colours available : white, black, chrome and aluminium.
Power Supply –  You can power your Profil clocks with either batteries, mains supply, extra-low voltage or Power over Ethernet (PoE).