Description
In addition to the time, Opalys Date / Ellipse LCD Digital Clocks offer a large number of display options thanks to a wide choice of information and 18 available languages. And what's more, you can customise it by writing your own message.
POE NETWORK              MAINS SUPPLY
Essential day-to-day information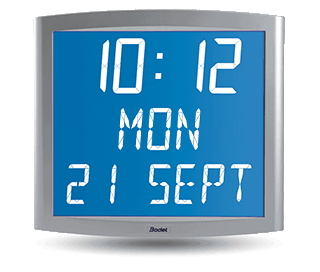 The Opalys Date adapts to your requirements and offers a versatile display of information. With a large number of display options, simply select the information that best suits your day-to-day needs: date, day, week number, temperature or the name of your town. To brighten up your environment, enter your own customised message. With an ample choice of customisable information and a wide range of available languages, you can display exactly what you need.
With an aesthetic focus on understatement, the Opalys Ellipse has a distinct visual impact. Its extra-flat case gives it a pure and modern line. Its glass face and aluminium-coloured frame offer it an air of elegance. Its backlit LCD display highlights the various types of information shown. An elegant style, modern lines, a backlit LCD screen and an original seconds display, the Opalys Ellipse stands out from other LCD clocks.
Designed to display the time with its backlit liquid crystals, the Opalys Ellipse remains bright, even in the dark. For better visibility, its backlit LCD screen brings contrast and brightness to this clock. And there's one more special feature: the second markers light up one by one with each new minute.