Description
The Harmonys Trio audio system can deliver reliable time information, broadcast audio messages and send timely alerts in the event of a threat. It comprises a loudspeaker, a strobe and an LED display.
Harmonys Trio combines 3 devices into 1.
A speaker for broadcasting alerts, microphone announcements, bells, or streaming audio
A flash for silent alerts and draw attention to the message displayed.
An LED display to show either the time or fixed/scrolling messages
With its red LED, Harmonys Trio can display time information. Optimal viewing distance 16m.. No need for manual programming: each Harmonys Trio is synchronised with a master clock. The time displayed is accurate, reliable and identical across all the devices. It automatically adjusts for daylight saving time.
Schedule bells, define zones and groups of zones, customise alerts, choose text messages to be displayed, choose to broadcast the time or a message (fixed or alternating), activate the flash or not, stream audio… All combinations of settings are possible thanks to the intuitive Sigma software. Once the device is installed, you can easily set up your bells, alerts, flash, and messages as needed.
It's the solution for risks notification.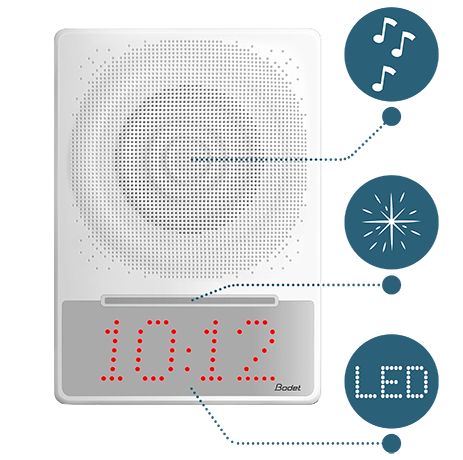 Schools, businesses and all organisations open to the public must be able to alert everyone on site from outside intrusions, attacks, natural disasters (risk of earthquake, tsunami, flood), health risks, animal intrusions, and much more.
Message. Flash. Bell. The combination of these functions enables Harmonys Trio to alert everyone in an environment.
In these emergency situations, responsiveness makes all the difference. With a simple call to a single predefined number, the GSM control can be used to trigger an alert in your organisation from remote. Across all your Harmonys Trio devices. A text message (SMS) can also be automatically sent to up to six predefined contacts: police, site manager, and others.
Harmonys Trio is part of the Harmonys range of audio systems. It is therefore perfectly compatible with all the devices part of the Harmonys system.Indoor or outdoor speakers, flash, microphone, control box and remote for triggering alerts or informative messages… you can add functions or options to your installation at any time. That's the biggest strength of our solution: it scales up to your needs.