Description
Bodet Style 5 – Indoor LED Clock blends perfectly into its environment. A choice of LED colours, adjustable lighting, timeless graphics, silent operation… This clock has been designed to display the time in an unobtrusive way.
Simplicity at the service of time
Measuring 25 cm wide and 10 cm high, the Style 5 is the smallest in the range. With its understated, contemporary graphics, this clock blends into any environment. For better aesthetic integration, choose your model from 5 LED colours: red, green, yellow, blue or white. Its light intensity can be customised to 4 different levels at any time. In its flush-mountable version, the clock is installed directly against the wall for perfect integration.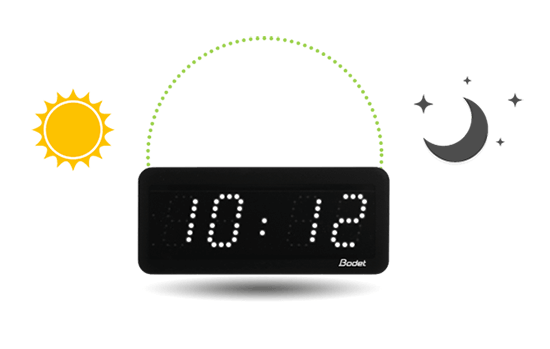 The choice of discretion
Its silent operation means that it is perfectly suited to spaces requiring peace and quiet: offices, waiting rooms, libraries, museums, banks, classrooms, etc. Not to mention its eco function: programmable to cover time ranges of your choice, the Style 5 can switch itself off and on again as you require. To display the time exactly when you need it.