Description
Always visible, even from a distance, Thanks to its very large dimensions, wide reading angle and luminous LED display, Bodet Style 10 / 10S LED Clock offers great reading clarity. Even from a distance.
Half a metre long, the Bodet Style 10 / 10S LED Clock displays 10 cm high digits and offers an optimal time viewing distance of up to 40 m. This clock's excellent long-distance readability makes it the obvious choice for all large indoor spaces: production sites, logistics platforms, concourses, large meeting rooms, restaurants, gyms, etc. Its location also plays an essential role. With a choice of 3 types of mounting – wall, mast or ceiling – it can be installed to provide the best viewing angle for all.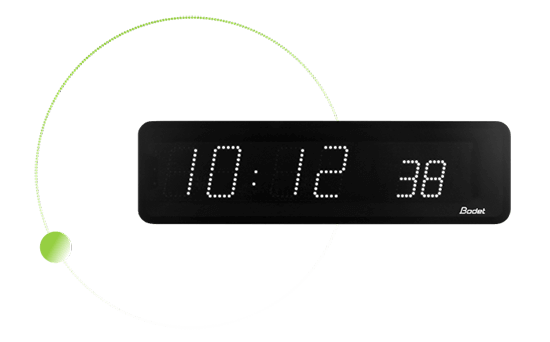 Reliable and accurate time display
Having good time information is always reassuring. It reduces stress, especially for passengers that need to be on time for boarding. But what is good time information? It's a time that's reliable, precise and exact. The Style 10S guarantees this.